---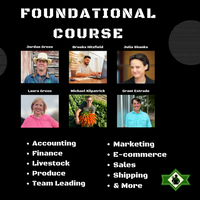 At this premier 3 day event the Foundational Course equips farmers of all levels with the tools to Plan, Build and Grow their operations. From accounting principles to livestock and produce production, retail marketing and sales to nationwide shipping, our instructors are proven experts with track records of success.
Have you already heard all of the details about this amazing 3-day event?  If not, check it out here!
**Any promo code will be seen during checkout**
F.A.Q.'s
Where and when is Course taking place?
Edinburg, VA or Winchester, VA 
Announced by January 5, 2023.
February 6 - 8, 2024
Is this course being offered online?

This event is only being offered in-person.
What is included in my registration?
Registration includes access to all sessions and speakers, lunch on all three days plus dinner on day 1.
Who should attend?
Whether you're currently employed and looking to transition to full-time farming or if you're already operating a farm and seeking to expand your knowledge, this course is for you.
Are children allowed?
This event is for registered guests only.
How will I recieve information about this course are registering?
Upon registration, you will recieve an email from farmbuilders@gmail.com to confirm your registration.  As the event approaches, additional emails will be sent with updated information.  If you have not recieved any emails from us, please first check your junk/spam mailbox.  You can also email us at farmbuilders@gmail.com and we will ensure your infmoration is up to date in our system.
Will I need a physical copy of my reciept when I check-in at registration on Day 1?
A printed ticket is not needed.  We will be able to check you in at registration with your name and/or email.
I registered, but I am no longer able to attend. Am I able to get a refund?
TRANSFER TO ANOTHER PERSON - Registration can be transferred to another person easily by emailing farmbuilders@gmail.com and providing the persons name and email address you are planning to gift your ticket to.  To ensure the materials are printed properly for each attendee, we request that a transfer to another person is executed (30) business days prior to the start of the event.
REFUND - If you are no longer able to attend the event and you aren't able to transfor your registration to another person, please submit in writing via email to farmbuilders@gmail.com to request a refund under the following options:
1) If canceled at least ninety (90) business days prior to the start of the event, a full refund (less the administrative fees) will be refunded.
2) If canceled at least thirty (30) business days prior to the start of the event, 50% of the regristation fee (less the administrative fees) will be refunded.
3) No refunds will be offered within thirty (30) business days of the engagement.